So, base wide design choices on the future and make smaller design choices that can be easily changed down the road. To build a child-friendly bathroom that expands with them, follow these phase recommended by bathroom remodeling Woodbury, MN.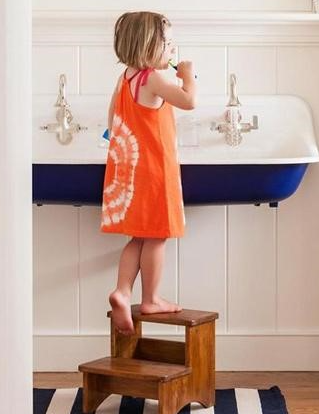 Phase 1: Change your outlook
By designing a children's bathroom from their viewpoint, you will give little ones a sense of ownership and power. Hanging towel bars and hooks at their height helps them not only to reach their towel, but when they finish with it, to hang it up (read: no more wet towels on the floor!). To give them a feeling of freedom and stop having to use a step stool for any job, hang mirrors and artwork at their eye level, too. Just increase the height of and object as children develop so that they feel safe in their space at all times.
Phase 2: Think of a conversion
For toddlers, bathtubs are a necessity, but they might prefer the fast convenience of a shower as they grow. If you have kids at various ages, your best bet is probably a tub / shower combo. But suggest a tub to shower conversion if your youngest is reaching teen years. And if you want them to be responsible for keeping their bathroom clean, opt for surrounding walls with low maintenance. If you don't want the hassle of shower curtains or shower doors tending to collect mold and mildew, walk-in showers are a perfect choice.
Phase 4: Up to double
You definitely appreciate the importance of not having to compete for space with your partner when brushing your teeth if you have more than one sink in your master bathroom. Giving the same benefit to your kiddos will divide them just enough so that you don't have to play referee. If you have children at various ages and levels, consider building sinks at various heights so that they can choose which one to use. In order to give smaller children a lift, consider an incorporated slide-out move if you choose a single vanity with dual sinks.
Phase 5: Select products that are kid-proof
Vanities that dent, stain or scrape will not look fantastic with kids at the helm in a few years. Choose highly durable materials and items that, from tantrums to teenage hair products, can withstand anything a child can throw at it. It can also help to make the bathroom more durable and less vulnerable to water damage by a subway tile backsplash or DuraBath shower wall surround.
Phase 6: The fresh cool is smart
We know smart products can reduce costs and save resources, but they're just cool for kids. Swap out conventional fixtures for smarter counterparts to keep your bathroom more sanitary and make clean-up faster and simpler, such as hands-free faucets and self-cleaning toilets. Install smart showerheads and lighting that can be configured for each user if you really want to lift the cool factor.
Phase 7: Nix the sharing feature
We're all about educating children to share, but items like towels and toothbrushes don't count in the bathroom. Kids have tons of things, and as they expand, the things just multiplies. Assign a color to each of your kids, and then color-code a drawer, bin or storage caddy for the personal belongings of each boy. By color matching their bath towels, toothbrushes and towel racks, take it a step further to make it easier for kiddos to recognize what is theirs.